Filter by Category
Mind, Body & Soul
What is EFT? Section II - Live Online
with Leah Wentworth

Nov 17, 2020 at 6 pm

, runs for 1 week
Emotional Freedom TechniqueTap your way to better health and joy with an introduction to your body's energy system. Use EFT/Tapping (on your body) to create better health, reduce stress and pain to bring more balance, peace and joy into your life. Experience the power of this simple tool and leave with the information you need to start using it! Registration closes at noon the 1st day of class.Note: Need to get comfy with online classes? For more info visit https://oobsaco.maineadulted.org/online-classes/Leah Wentworth, of Inner Wisdom Health & Wellness, is a Certified Holistic Health Coach, Reiki and EFT/Tapping Practitioner. She is passionate about creating balance in the body's energy system and providing guidance to reconnect with inner wisdom.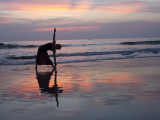 Morning Yoga Flow & Meditation - Live Online
with Jessica Gagne
Start your day grounded with this 45-minute yoga + meditation class. Explore a different type of meditation and flow of yoga poses each week. Some weeks we will begin with meditation and others we will close with it. The class is suitable for beginners and experienced yogis alike.
Required: Zoom connection, comfortable and flexible clothing, a mat (or something that subs for one), room to move, and a spot to be seated comfortably for meditation. Blocks and a strap (or a substitute for them) can be helpful. 
Jess Gagne, RYT200,  took her first yoga class at the Y in 2000 while recovering from an illness and has been practicing ever since. Last year, she completed her 200 hour Yoga Teacher Training program with Samudra in April. Jess strives to bring together breath, mindfulness, strength, fluidity, with a dose of humor into each of her classes.