Filter by Category
Business Software Training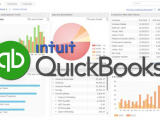 QuickBooks for Home & Office
with Kevin Neely

Mar 21, 2018 at 6 pm

, runs for 5 weeks
This easy to use, full-featured accounting system is perfect for the home or small business owner. Keep all of your information in one location so you always know where you stand financially. Review basic accounting principles, get organized, balance your checkbook, manage budgets, track expenses and inventory, pay bills with ease and have more time for managing your home and business.
Prerequisite: Computer Basics course or equivalent experience, being comfortable using the keyboard and working in a PC-Windows environment.
NOTE: Due to weatjer cancellations on 3/7 & 3/14, class start/end dates have been changed.
Kevin Neely has spent more than 30 years helping people with computer technology. His career of helping adults learn and be comfortable with technology has taken him throughout North and South America, Europe and Australia.
Will run