Filter by Category
Language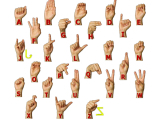 Registration Unavailable
Beginner American Sign Language
with Helen Webb-Prosser

Sep 11, 2017 at 6:30 pm
, runs for 13 weeks
Learn to sign to hard-of-hearing or mute people and become adept at reading what someone signs to you. Begin with finger spelling and move on to learning to sign numbers, activities, foods and people. Please bring a notebook, highlighter and writing utensil. No class October 9th.Required: Signing Illustrated Expanded by Mickey Flodin ISBN-13: 978-0399530418 or ISBN-10: 039953041X(approx. $15, Amazon).
Helen Webb-Prosser is a certified teacher currently working at Memorial Middle School in South Portland. Isabelle Louise Hart is a retired resource consultant/teacher, having working with special needs students.
Spanish for Beginners
with Eileah R LePage

Oct 5, 2017 at 6 pm
, runs for 8 weeks
No experience needed!
This course will emphasize the basics of pronunciation, vocabulary, grammar and help you develop fundamental conversation skills. No class November 23rd.
Required: Easy Spanish Step-By-Step by Barbara Bregstein, ISBN 978-0071463386 (approx. $8, Amazon).
Leah LePage has been teaching French and Spanish to beginners for thirteen years. She is excited to share her expertise and passion for language with adult learners.