Filter by Category
Mind, Body & Soul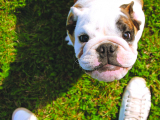 Animal Communication
with Judith Anne Garbow

Jan 28, 2019 at 6:30 pm

, runs for 3 weeks
Learn the Skill of Telepathy
Yes, you can learn what animals are thinking! Animals have many lessons to teach us. They have soul contracts with us and are here to help us learn important lessons in our own lives. Learn how to tune into what animals are thinking and feeling, and understand their perspective, helping you both live happy, balanced lives.
Judy Garbow, animal communicator and heath coach, has been facilitating and teaching for 20+ years. She is the communicator every year at LL Beans' Dog Days of Summer, has taught privately and at Leaping Lizards in Portland & Freeport, has been on radio and Channel 6's 207 and written about animal communication for the Portland Press Herald.
Full Course
Past Life Regression
with Hugh Sadlier, MEd., BCH

Feb 25, 2019 at 6 pm

, runs for 2 weeks
Hypnosis can open the door to the realm of life-before-this-life. You may simply return to a past life and re-experience it in full detail. You could also change the impact of past-life karma that may have been adversely affecting you in your current life. Those energies can be changed, released, returned and replaced with positives, enabling you to heal in this life. Bring a mat and/or pillow for extra comfort.
Hugh Sadlier, practicing hypnotherapy for 27 years, has worked with more than 3000 people on more than 300 separate issues, including weight management & eating disorders. He practices at the IHCM in Portland.
Yoga Nidra Guided Meditation
with Susan Giarolo

Jan 28, 2019 at 7 pm

, runs for 4 weeks
Come in, lay down and cover up as this guided relaxation takes you deeply inward through the layers (koshas) of your being as you set a personal intention specific to your life. This method aids in healing, stress relief, addictions, feelings of loss and the release of long held behavioral patterns, leading to physical, mental and emotional relaxation. Bring a mat, wear comfortable clothing and minimize the use of perfumes. No class 2/18.
Sue Giarolo became a Kripalu-trained 200 hour yoga instructor in 2012. She is also certified in Let Your Yoga Dance, Restorative Yoga, YSR12, Divine Sleep Yoga Nidra and Reiki I/II. From movement to stillness, sheer bliss to deep inward exploration, her goal is to guide each person to be their own Guru.
Will run