Filter by Category
Music & Dance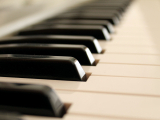 Piano 101
with Suzanne Farley

Oct 30, 2017 at 5:30 pm
, runs for 8 weeks
Learn the basics of piano easily with seasoned teacher Suzanne Farley. She will introduce you to the keyboard, get you reading music, and playing basic songs before you know it! If you are interested in checking out the piano, this is a wonderful opportunity. An electronic keyboard will be provided during class for each student. Class is limited to 8 students so register today!
Required: Piano Adventures for the Older Beginner Lesson book 1, Theory Book 1, and Technique and Artistry Book 1 for the Older Beginner (books approx. $23), by Nancy & Randall Faber, available at Midtown Music, 282-0254. Students should have access to a keyboard for practice between classes.
Suzanne Farley has taught music for more than 31 years. She teaches privately, performs locally, and is eager to share her love of music with others..