Filter by Subcategory
Health
Dressing for Illusion
with Candace Sanborn

May 30, 2023 at 5:30 pm

, runs for 1 week
What do you want people to notice about you? Dressing for illusion is about learning where to put color and embellishments, or not put them, to intentionally draw the eye toward areas of your body you want to be seen and away from spots you want to minimize. The instructor will guide you on how to do this based on your body shape.
Candace Sanborn, owner of Radiant Image, has 30 years of branding and marketing experience. Her mission is to apply her wealth of knowledge to people, particularly women, to increase their self-confidence by helping them feel great about their appearance and connect effectively with others.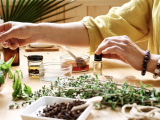 Herbal Healing for Women
with Paula Kersch

Jul 6, 2023 at 6 pm

, runs for 4 weeks
Discuss areas of focus or concerns in women's health as we work hands-on with herbal applications for women in various stages of life. Look at different ways to apply herbal tinctures, depending on the situation. Participants will make an herbal tincture for stress relief and explore ways to support the body - no herbal expertise needed to incorporate herbs. End our herbal journey with a celebratory herbal Mocktail for better sleep. Tuition includes materials and recipes. Proof of registration required.
Paula Kersch, trained herbalist, and owner of Botanically Curious offers boutique herbal experiences and products. She can be found formulating herbal blends and tending to her gardens, admires sustainable foraging and wildcrafts through modern and ancient herbal practices. Her focus on herbal actions and energetics allows her to bring the best in holistic health and wellness.