Filter by Category
Creative Arts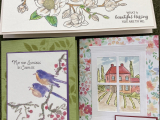 Watercolor Painting with Rubber Stamps
with Faith Garnett

Mar 16, 2023 at 6 pm

, runs for 1 week
Create watercolor greeting cards!Have you ever wanted to paint with watercolor but were intimidated by the aspect of drawing the initial design?
This class will teach you how to use Memento Inks, watercolor pencils and markers to color-stamped designs that look like watercolor. Leave with three greeting cards on watercolor paper for those special occasions. All materials included. Registration closes at noon on 3/14.
Faith Garnett began teaching card-making in 2009. She sells her work at craft fairs, through private sales and online.
Will run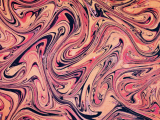 Paper Marbling
with Gayle Fitzpatrick

Mar 18, 2023 at 10 am

, runs for 1 week
Discover this centuries-old method of creating decorative papers useful in various projects, such as handmade books, scrapbooking, cards, boxes, picture frames and more.
We will cover the materials and processes that allow you to pursue and expand the possibilities of this craft for future projects.
Registration closes at noon on 3/11. All materials included. Proof of registration required.
Gayle Fitzpatrick has taught in public and private schools, colleges, adult and community programs for 30+ years. In addition, she is a practicing artist who creates and exhibits works in painting, printmaking and paper.
DIY Toilet Bombs!
with Kristen Bartlett

Mar 19, 2023 at 10 am

, runs for 1 week
The easiest (and laziest!) way to clean your toilet is with toilet bombs! Just pop one or two into your toilet and watch the fizzing magic as it dissolves those water lines, discoloration and absorbs stinky odors. The hardworking ingredients will be released into the toilet bowl, deodorizing and cleaning it. Once the fizzing stops, flush your toilet and vóila! Learn to create and customize the scents of these glorious, all-natural toilet-cleaning bombs and leave class with your first batch! Toilet bomb ingredients will be supplied.
Required: Proof of registration. Bring a 24-cup mini muffin pan or equivalent silicone molds in any shape, two large mixing bowls, a mixing spoon and apron.
Kristen Bartlett was exposed to art & crafts at a very early age, inspiring her lifelong creative path. With schooling in drawing, oil painting, graphic design, photography and business, Kristen practices many forms of art & crafts and founded her business, Alley Oop Apothecary, in 2020.