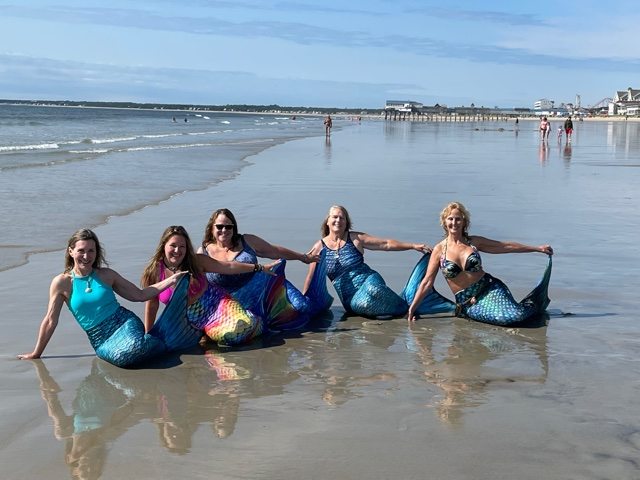 Advanced/Intermediate Mermaid Swim Section II
with Michelle Robinson
$14900
This class is for the mermaid who has taken both Mermaid Swim levels I and II or has received approval from the instructor.
The class builds on mermaid swimming skills learned in the previous levels including breathe control, swimming underwater in multiple positions, posing, individual routines, tricks, bubble bending, and a more intense workout overall. Mermaids will need to bring towel(s), goggles, nose clip, water, and a big mermaid smile! Limited to 6 participants. Registration closes at noon on 8/12. Free on-street parking is available until 10 AM.
Prerequisites: Must have taken Mermaid I/II.
Required: Chart for your Mermaids size/color (see link below) must be sent to the instructor as soon as possible. Bring proof of registration and wear swimming attire.
Mermaids Sizing & Color Charts
As of 3/9/22: 3-foot distancing when not in pool required, masking optional.
Michelle Robinson, or Mermaid Shell, has multiple years as a competitive swimmer, aqua aerobics instructor, and with various swim programs. She is a Red Cross Certified Lifeguard, trained and certified with Maine Mermaid, LLC, and participates in open water races.
Aug

14

-

Sep

11th

,

2022

Sun

for

5 weeks

from

8:00 - 9:00 am
Alouette Swimming Pool
91 E Grand Ave
Old Orchard Beach, ME 04092 Get directions
Room: OOB