High School Completion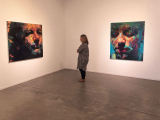 Registration Unavailable
Writing About Art
with Christine Adams, BA

Jan 4, 2017 at 10:30 am
We are living in a period where images flash before our eyes at a rapid and sometimes overwhelming pace. This class is about slowing down the act of viewing art where the student can process, reflect and then creatively write about images that hold meaning for the student. We will look to art for inspiration to facilitate the creative writing process.
This open enrollment class will meet on Mondays & Wednesdays from 10:30am - 12:30pm. No classes on 1/16, 2/20, 2/22.
Missed the start date? No problem! This class has ongoing enrollment as studies are tailored to students' needs.Registration by appointment only so please call our Saco Learning Center at (207) 282-3846 or the OOB/Saco Adult Ed office at (207) 934-7922 to set up a meeting with our Student Services Coordinator, Liis Nigol.
See our Current Academic Course Schedule for more information.
Christine Adams is the Alternative Education teacher at Saco Learning Center. She attained her Bachelor of Arts degree from the University of Maine at Farmington, and has spent many years working in education in various roles.